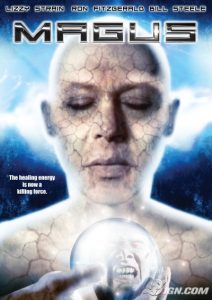 ---
Ron Fitzgerald has acted in numerous dark genre films including "Dark Realm", "MAGUS", "Year of the Ox", "The Item" , and many others since the late 1990's. He began acting when directors, liking his unique image and persona, started asking him to act in their Horror films.  Fitzgerald had studied Theatre and Acting in preparation for his live stage shows and those skills translated perfectly for him on the big screen. Since his beginnings in film Ron has played many dark and mysterious characters from Dr. Ody to Dracula. Fitzgerald combined all his movie making skills when he co-wrote, co-produced and starred in the award-winning "Dark Realm". Check out Ron Fitzgerald's IMDb link below for a more complete list of his many projects.
Many from the Chicago area may know Ron from his early 90's cult classic cable TV show "Fitzgerald's Realm".
You may recognize Ron's image from the supernatural comic book series "Haunting Tales of Bachelor's Grove" or as the cover model for author Sue Dent's chilling novel "Electric Angel". Whether on film, stage or in print Ron Fitzgerald is so much freaky fun, he will leave you screaming for more!
**To Inquire about Ron Fitzgerald for Movie,Television or Photography projects Please use the Contact Form below.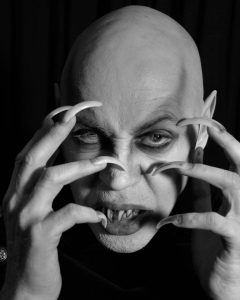 ---
---
---
Click here for Ron Fitzgeral's IMDb:
**To Inquire about Ron Fitzgerald for Movie, Television or Photography projects Please use the Contact Form below